The experts in underground utilities installation.
Talus Construction is Northern California's leading underground utility installation specialist, offering a full range of pipeline excavation and installation services, including domestic water, storm water drainage, natural gas, sanitary sewer, underground fire water systems.   The company also offers non-pipeline related excavation services, as well as grading and paving services.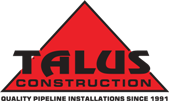 Founded in 1991 by Sharon and Steve Alberts, the company has steadily built a reputation for diligent, safe work, on-time and on-budget execution, and financial stability.  Routinely working with top general contractors, owners, and municipalities throughout the Northern California region, the company has become the go-to specialist for underground utility installation needs.  The company has successfully completed hundreds of projects in retail, commercial, institutional and public works segments throughout Northern California.   View a list of representative projects.
If it goes in the ground, think Talus.
Talus offers a full range of pipeline-related excavation and installation services, including:
To be the recognized leader in underground utilities installation.
It is not too often that people think of what is going on underground. At Talus, our crews install storm, water and sanitation utilities –infrastructure that ensures a clean, safe and healthy environment.
The Team at Talus has a personal service philosophy that extends from the estimate through the final job walk.
Talus encourages open communication with Owners, Generals and Municipalities to facilitate proactive business solutions and on-time performance.
To be a member of Team Talus is to have a commitment to the future and to maintain the highest regard for safety, quality, and integrity. From management to field employees, it is expected that each Talus employee treats all customers, vendors and co-workers with respect and consideration.
Talus employees are encouraged to spend time with family and understand that providing for the future is a reward in and of itself.
Join Team Talus
We're currently hiring experienced operators………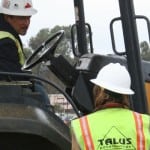 If you think you have what it takes to work with Team Talus, then drop us a line.